Boosting Your Fall Curb Appeal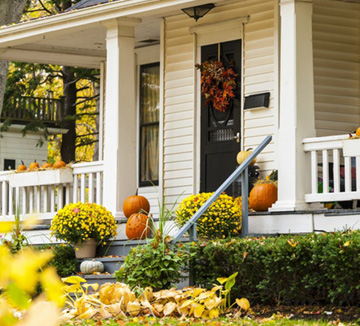 Fall is here, and there's no better time to make your home's exterior look amazing! Boosting your curb appeal is an easy way to make your home more attractive to potential buyers. By sprucing up your home's exterior, it makes a great first impression and entices buyers to want to see more. Here are some simple ideas to get you started.
Clean it up
First things first – it's time to clean up your yard. Trim trees and bushes and clean up all the fallen leaves. Remove dead or dying plants from your garden beds. Make sure your driveway and all walkways are free of debris. If needed, use a power-washer to clean sidewalks, driveways, and porches. And don't forget the gutters! Potential buyers will be looking at everything, including the roof and gutters. If you do nothing else to your home's exterior, then make sure it is at least cleaned up.
Add colorful flowers
Nothing says "fall" quite like a big pot of mums, and right now they can be purchased at just about every home improvement store or garden center. You don't need to invest much to make a big impact. A few potted mums in seasonal decorative pots placed around your garden or on your front porch will make your home look cozy and inviting. Just be sure to keep them watered and deadhead any spent flowers to keep them looking fresh.
Paint
There is nothing more refreshing than a new coat of paint. Consider painting your front door to add a pop of color to your home's exterior. Painting your front door is quick and inexpensive, and can really add to your curb appeal. While you're at it, you might also paint your mailbox or invest in a new one. If your home's trim is looking a little shabby, now is also the time to refresh it with a new coat of paint. A weekend's worth of work can really pay off in the long run.
Add seasonal decorations
Adding some seasonal decorations to your front porch is a great way to add fall curb appeal. Consider placing a few pumpkins or gourds around your entryway, and add a colorful wreath to your front door. Switch out your welcome mat for something seasonal. Just be mindful of not going overboard. Less is more when using seasonal decorations. You should also avoid using Halloween decorations that may turn some buyers off. When in doubt, leave it out.
Invest in good lighting
Fall means shorter and even darker days. When showing your home, you want there to be as much light as possible – even on the outside. This is especially true if you're showing your house after it gets dark. Make sure all outdoor lighting is working properly and don't be afraid to turn those lights on. Consider investing in a new porch light, and add lighting to any area of your yard that may be too dark. Motion-sensing lights not only help to keep your yard illuminated, but they are also a great crime deterrent.
Compliments of Virtual Results
What Others Are Saying