11 Ways to Make Small Rooms Feel Big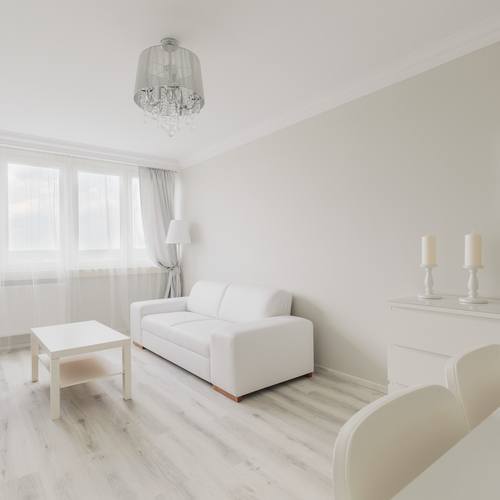 Just because you're short on square footage doesn't mean your life needs to feel cramped.  Try any of these amazing tricks to make your small space feel big.
Choose the right paint colors
While the generally accepted rule of thumb is to paint small spaces in lighter colors, that isn't always the case. Some design experts suggest that deeper hues or jewel tones can make a room feel cozy or vibrant. If you're not sure what to pick, here are some great choices.
Embrace natural lighting
A no-fail way to add a feeling of spaciousness to any room is to let the sun shine in. This is especially true if you have a beautiful view outside your window, which will help draw the eye out.
Be picky about other lighting
Plain overhead lighting isn't going to cut it in a small space. Go for variety with your lights in a small room to add depth and softness, such as a small table lamp, a floor lamp and a hanging pendant lamp. If possible, put dimmers on your lights for even more control and variation.
Use mirrors
Mirrors not only reflect space back at you, they also reflect the light, making the room feel more bright and spacious. Hang a wall mirror or lean a floor mirror against the wall opposite a window, which will increase the light in the room and reflect the view back to you.
Streamline furniture
Nothing makes a small space feel even more cramped than too much furniture. When outfitting a small room, go for furniture that can serve more than one purpose, such as a steamer trunk that can store pillows and blankets and double as a coffee table or ottoman.
Go monochrome
Try painting walls, doors and trim in the same color or different shades of the same color. You can also paint things you don't want to draw attention to, like built-in shelves and radiators. Choose curtains that also blend with the color on the walls. Or better yet – do away with window treatments altogether if you can.
Be bold
Even though you don't want to overwhelm a tiny space with too much furniture, you can add visual space by choosing one large statement piece, such as a sectional sofa or dining room table.
Remove interior doors
If you're space is closed off by interior doors that you don't really need – like the ones that separate a living room and a dining room – remove them. This lets the eye travel so that one space moves seamlessly to the next.
Show your legs
Instead of furniture that rests directly on the floor, choose sofas and armchairs with legs to make the room feel airier and more spacious.
Be transparent
Choose glass or acrylic tables instead of metal or wood, which disrupt the view and create visual clutter.
Get rid of clutter
The number one rule, of course, with any small space is to remove as much clutter as you can. Leave at least half the space on shelves and tables empty for a more spacious and dramatic look.
Compliments of Virtual Results
What Others Are Saying