Stage Your Front Porch to Sell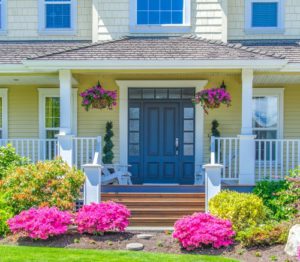 You've cleared out all the clutter, emptied the closets, trimmed the trees, and made all the necessary repairs. Your house is clean and spotless and ready to show to potential buyers.
But have you thought about your front porch?
Your front porch will be one of the first things that potential buyers see when they visit your home. Use these great ideas to make sure your porch makes a warm and welcoming first impression!
Give it a scrub
It probably goes without saying, but having a clean front porch is the first step towards having an inviting front porch. Clear away all the clutter, scrub down the floor and make sure all the cobwebs are out of the corners. Wipe down railings, windows and the front door. If needed, rent a pressure washer to deep clean.
Paint and punch up the color
Staging in neutral colors is often recommended inside your home, but you can be a little more daring on the outside. Don't be afraid to play with color when you're staging your front porch. You can add pops of colors by painting furniture, adding throw rugs, painting the front door or even simply adding colorful pots of flowers.
Add plants and flowers
Not only will flowers add some wonderful color to your front porch, plants will also draw the eye and make it cozy. Place plants and flowers in the corners in groups of three, line the steps with potted annuals or hang ferns around the perimeter.
Consider the furniture
A front porch is added living space, so demonstrate to potential buyers how they can best utilize the extra square footage. If you have enough room, add a cozy couch or porch swing, complete with bright and comfortable pillows that invite people to sit and linger. Even if you only have a small space, you can add a bistro chair and a side table – the perfect place to enjoy a morning cup of coffee.
Maximize the view
If your front porch has a beautiful view, then you certainly want to emphasize it. You can add curtains that help to frame that gorgeous vista, and position furniture to maximize what can be seen. Don't have a great view? Don't worry! You can still make your front porch inviting by finding ways to play down what may not be the best view – like a parking lot across the street or a birdseye view of the neighbor's RV. Install shutters, hang heavy curtains or add large plants like potted palms to help obstruct the view.
Lighting
Last but not least – don't forget the lighting! Swap out an old front porch light with something more stylish and clean all outdoor lights thoroughly, especially if you will be showing your home in the evening. String lights can even add a little romantic charm.
If you're lucky enough to have a front porch, make the most of it when staging your home! You'll find that many buyers will be drawn inside based on how welcoming you've made your home's entry.
Compliments of Virtual Results
What Others Are Saying